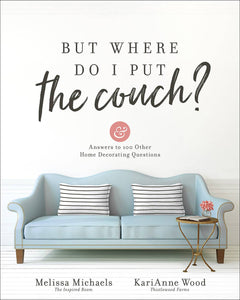 But Where Do I Put the Couch?, Book - Home
Regular price $28.00 Sale
But Where Do I Put the Couch? (softcover)
101 real decorating faqs answered. When you have a home decorating question, do you wish you had a team to consult?
As Melissa and Karianne help solve these everyday decorating dilemmas, you'll learn more about... Getting started What to do first, how to update your entire house, and decorate on a budget.
Style and trends. How to find your personal decorating style, choose a timeless look, and make your home both kid and style friendly. The major elements. Get foundational guidelines for flooring, wall décor, lighting, and more. Furniture and space planning. How to place furniture properly, maximize open floor space, and redo rooms on a tight budget.